Public Art 360
, the regional/national symposium that Janet Kagan & co. successfully pulled off this weekend in Chapel Hill, looks to have been a great success! Wish I could have attended more than just the one session on landscape architecture--but that one was pretty amazing.
Walter
Hood
, who grew up in Charlotte, is an artist, an architect, and a landscape architect; he's been
called
"one of the nation's rising stars of landscape architecture." His work is worthy of all those titles, and his mission is to show that the lines of separation are artificial. Given the character of some of his "interventions," I'd say he's a bit of a social worker and an activist as well. According to
Metropolis magazine
(July 2005),
At 46, Hood is now one of landscape architecture's leading public intellectuals: former chair of the department of Landscape Architecture and Environmental Planning at Berkeley, Pentagon memorial competition juror, and constant lecturer. As an African American in a profession with seemingly none and an urbanist in a discipline just barely breaking free of the pastoral, he's something of a phenomenon. His faculty position has given Hood the ability to pick and choose projects, a luxury he has exercised carefully and often polemically, working nearly exclusively in the public realm, and often in the inner city.
I was particularly taken by his work in the Phillips community near Charleston, South Carolina, where he helped the residents defeat a proposal to widen a road. The project would have cut the community in two. This achievement was won through the concept of "
the overgrown
." Imagine a well-manicured suburban back yard at the edge of an undeveloped tract: you are peering across civilization into the overgrown. The overgrown can be used as shield or sword. You can clear your landscape to enjoy using it and perhaps to enjoy the proximity to your neighbor; or, say, you aren't that friendly with your neighbor: you might "let the overgrown take care of it."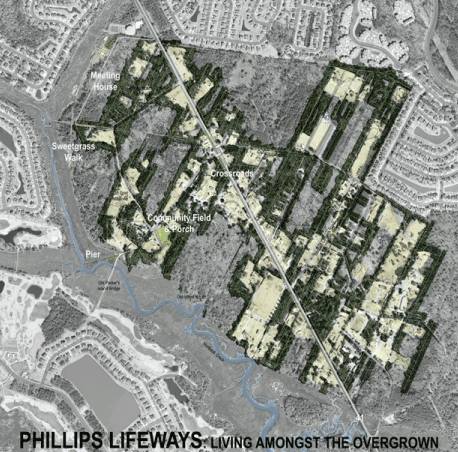 Through an aggressive use of the concept of the overgrown--including actual use of plant material to expand the vegetation in key corridors--Hood helped the community persuade the relevant officials that the widening of the road would be an assault upon the community.
(In some back yards, the line between civilization and the overgrown is under constant negotiation.)